White Tamari
Totally free of soy, this white tamari harnesses the magic of koji for a unique spin on soy sauce. Reminds us a bit of a sweet miso with an extra boost of maltiness! Straight from the head brewer 
Ninagawa of Nitto Jozo.
Water, wheat, sea salt, rice wine spirit
Onggi fave
We love it!
A soy sauce without the soy!
Inventive and playful, since it's made entirely without soybeans, the Japanese gov said "nono" to classifying as a soy sauce. So a white tamari was born!Use like any other light soy sauces, great for finishing a steamed fish with ginger and scallion or dipping delicate dumplings!
About the Maker
Nitto Jozo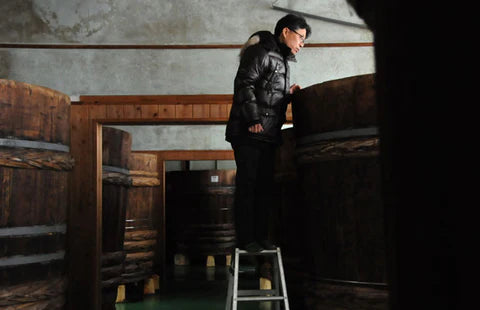 Nitto Jozo
Using traditional wooden barrels, head brewer Yoshiro Ninagawa is concocting some of the world's greatest condiments while carefully adding his own creativity into the mix. His white tamari highlights the local wheat from the Aichi Prefecture and the famous Asuke's Springs water, playing with koji to craft a totally unique shoyu-adjacent sauce!
Shop All Nitto Jozo
Other Stuff
You might like